Kerryon Johnson
Tracy Walker
The 2nd night of the 2018 NFL Draft is in the books, rounds 2 and 3 all settled, and the Lions have two new players to welcome to the team. Running Back Kerryon Johnson and Safety Tracy Walker will be donning Detroit Lions jerseys in the near future and will start to learn what the NFL is really all about. But just who are these players? Why did the Lions draft them? What's next? Allow me to attempt to provide some information on all of that.
Kerryon Johnson - RAS Card: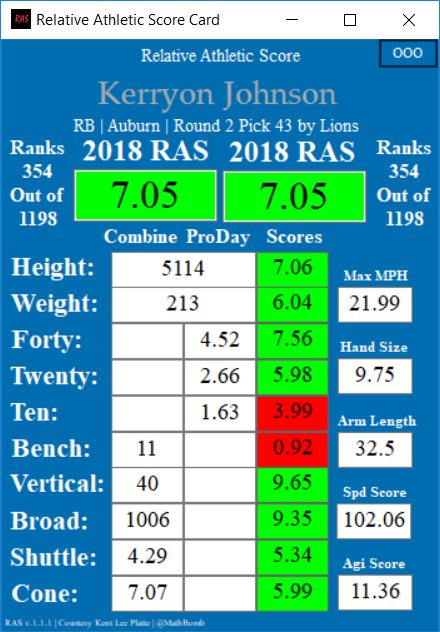 After the Lions surprised many fans by selecting a Guard/Center in round 1, they decided to completely stun the same fans by not only selecting a running back in round 2, but giving away a 4th round pick to move up a couple handfuls of spots to take him. That's right, at present the Lions no longer have their 4th round pick, and instead of defensive help they once again went offense. Now Kerryon was projected to go in the 3rd round, and some thought maybe he'd slide to the 4th round. Just exactly why the Lions moved up to take him has not yet be answered, at least, I haven't heard yet. But the most likely answer is, they had reason to believe some other team was going to take him before their original 2nd round pick. True or not, Quinn obviously targeted this player in the second round, and when you do that, you make moves to secure your target. As most know, I don't believe in that kind of draft, I would prefer the draft falls to me, but so be it.
Kerryon has the correct hand size for the position (9 3/4"). All the draft guides state he has fantastic vision. They also all say he doesn't have the extra gear to outrun pursuit. Some even go so far as to say he'll be a 3rd down back, a short yardage guy, one to pound it between the tackles. Basically, a younger version of LaGarrette Blount, who the Lions signed this past off season to a one year deal. However, Kerryon Johnson is about an inch shorter, 28 pounds lighter, 0.05 seconds faster (40 time), and Blount's RAS score is 4.88... so in some ways they are similar, and in others they are not. The biggest difference is, Blount is going to be 32 next year and a free agent... Kerryon will be 21 and will be signed through the 2021 season.
Kerryon RAS score (and his appeal to teams) would have been higher had he bench pressed more then 11 times, and if his 3 cone was quicker. I think, no I hope, that with proper NFL coaching, he will be able to use the rest of his better attributes to improve those deficit areas. The rest of his measurables are nearly elite. So that leaves game speed... and the draft guides are all over the place with that. I mean, one will say he has no next gear and the next says he can make moves that allow him to escape tackles. I'm not about to over rule any of them, so I'm forced to believe the Lions didn't use both their 2nd and their 4th round picks for a RB who is the same as a player already on the team, and leave it at that. Of course someone else will have to make me truly believe that is true, and that someone is Kerryon Johnson.
In round 3 the Lions were watching as at least three defensive tackles and three defensive ends that were on the Lions contact list (the list my forum creates to keep track of who the Lions have had contact with before the draft, and all 3 of the first 3 picks this year were on the list by the way... and a personal thank you to Captain19 for maintaining the list). So instead of finally addressing the DL after going offense in the first two rounds the Lions selected a Free Safety.
Tracy Walker - RAS Card: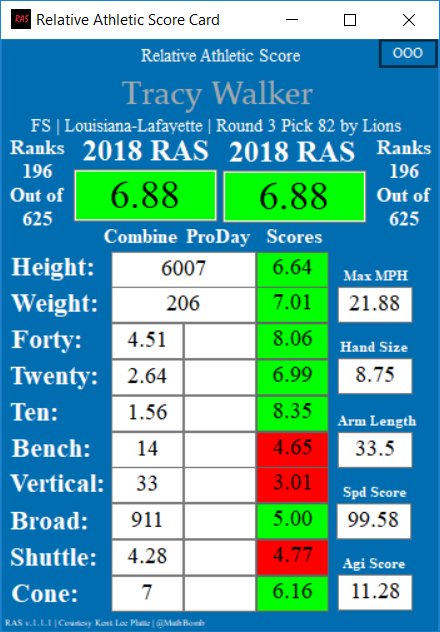 Tracy Walker happens to have gone to the same high school as current cornerback Darius Slay. In fact, they are cousins (2nd or 3rd cousins that is, the reports are mixed on that). Slay is a bit more athletic according to his RAS sheet (Slay is a 8.76) but Walker is 1" taller and 14 pounds heavier and runs the 40 about .15 slower then Slay (4.36 seconds). Walker ran the 3 cone in an 7.0 seconds (Slay is 6.9). As I said, Walker is a bit taller and a bit heavier but just a bit under Slay's measurables, as you would expect.
The problem is that no one knows Walker. He's a small school stand-out. Only one of my draft guides even did a profile on him. It basically says that Walker needs time in an NFL training program, but that he was very productive in the class of competition he was in. Which makes sense. This could be a home run draft pick at Safety for the Lions, in a couple years. So while I don't think he was the right position to draft at this point, he definitely has a very high ceiling, so I can live with the pick, if he actually turns out to be as good as the Lions think he will be.
The bigger problem is how do the Lions fix the DL (defensive line) with only a 5th and a 7th round pick left? Well, they could trade away a 2019 pick for a 2018 player, they have two extra picks next year, but if they took a RB and a Safety over the currently available DTs and DEs then maybe they won't go that route. Perhaps they intend to use one of those two picks on Hurst, a DT who was diagnosed with a heart condition that has scared most teams away from him, despite his first round grade. Perhaps the Lions have trade thoughts after the draft or maybe they have guys who are free agents who they can yet get that we don't know about. We fans can only wait and see how they will address the DL, which in my opinion is their final piece of the puzzle for this year, except there is one more player they liked who might go post-draft, or in the 7th, to them. A punt returner. I won't name names publicly just in case. Just remember the letter "B" for now, I'll get back to that tomorrow night.
In the end, the perceived ability to fix an entire roster in one draft isn't a valid thing to even attempt, as the Lions well know, which is why they are trying to improve the roster where they can, with what resources they have. They probably upgraded the OL with a guard/center in round 1, with a RB in round 2, and a Safety in round 3. Four and six are currently non-options. These players could all be a significant part of the Lions roster, in 2019 and 2020 and after. Many fans, if they dig deep deep down, know that you draft for the future of your team, not the current year. It's just near on impossible to ignore perceived holes now for the future of the team. But then that's why they get the big bucks.
Am I good with the draft? I would have done it differently, for sure. I don't know if what I would've done would have made things any better, either in 2018 or 2020 or in any other year. Since I don't and can't know for sure, I have to accept the results that we have, and hope there is a plan for the rest that I just don't know about. If they're wrong, they won't get the big bucks any more. I'll still be a Lions fan.